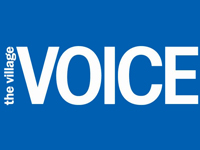 Village Voice
Marc Dennis's Paintings Are No Joke
Nov 20, 2013
We wandered into the gallery just as painter Marc Dennis was giving a talk — or, perhaps more accurately, performing a standup bit — about the dazzlingly well-executed realist paintings in his exhibition "An Artist, a Curator, and a Rabbi Walk into a Bar . . . "

One canvas depicts the back of a long-haired young woman who is blocking the view of the exposed vagina in Courbet's infamous nude, The Origin of the World. Dennis spoke of our natural desire to get in tight to appreciate the tactile, sensual beauty of great paintings, sometimes impossible in today's crowded museums. Discussing his witty reworking of Gerhard Richter's portrait Betty, the artist recalled that when he was viewing the original at the Museum of Modern Art, he thought, "Screw that — I don't want Cousin Itt in front of me again," and got so up-close and personal that a guard promptly yelled at him.

Another painting depicts an unsmiling guard in front of a large, gilded-framed canvas of a big-eyed kitten. The work riffs on an earlier kitten portrait Dennis had sold to a hedge-fund mogul in 2003; after the 2008 crash, he told regulators seizing his assets that they could "take anything — but the kitty painting." Wryly commenting on everything from art history to the irrationality of desire, Dennis's paintings are no joke.