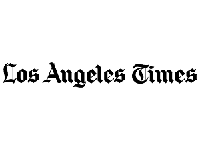 Los Angeles Times
Cat-themed art show to pounce on L.A.
Dec 11, 2013
By Adam Tschorn
A feline-focused art show featuring the works of more than 50 artists -- including Gary Baseman, Shepard Fairey and Tracey Emin -- is scheduled to curl up in a warm patch of Los Angeles sunlight early next year.
Cat Art Show Los Angeles, which organizers are billing as "the largest exhibition of cat-inspired artwork for sale ever exhibited" (we don't even know how you'd verify something like that, frankly) is set to chase its own tail around the 101/ Exhibit gallery on Santa Monica Boulevard from Jan. 25 to Feb. 2, with a portion of net proceeds going to the Stray Cat Alliance of Los Angeles, a nonprofit organization working to end the feral cat crisis in Los Angeles County.
Wednesday morning's announcement describes the upcoming show as "both a meditation and a celebration of the feline form," that "goes beyond heralding felines as domesticated companion, and instead explores their role as muse and inspiration."
Other artists contributing to the inaugural Cat Art Show Los Angeles include Tim Biskup, Marc Dennis, Charlotte Dumas and the aptly named Christian Furr (a complete list of participating artists can be found at the show's website).
Art consultant (and former art and culture journalist) Susan Michals is the show's curator, with Daniel Salin as producer and co-curator.
Cat Art Show Los Angeles, 6205 Santa Monica Blvd., Los Angeles, opening reception Jan. 25, gallery open noon to 5 p.m. on Jan. 26, Feb. 1 and 2.