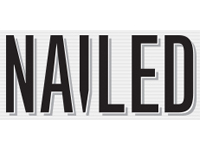 Nailed
Artist Feature Marc Dennis ...IMMEDIATE AND VISCERAL; REFLECTING A PARADOX OF DUALITIES...
Jan 10, 2014
Editor Shenya Webb, Art

When Marc Dennis isn't busy being a professor of art, an independent Holocaust scholar, a filmmaker, a blogger for an NPR hosted affiliate, or one of the nation's leading entomophagists, he creates impressive hyper-realistic paintings.

Many of his highly detailed paintings depict some of the most iconic and provocative artworks in history, such as Courbet's The Origin Of The World (1866) and Caravaggio's Love Conquers All (1602). Not only does he repaint these masterpieces, he adds a twist by intertwining the observer of the painting. Look where he happens to place his subjects, it's pleasantly aggressive. Dennis has a special way of sharing the dichotomy of life as he plays with American culture.

"I set out to create paintings that are immediate and visceral; reflecting a paradox of dualities–the believable and non-believable, the real and the staged, and the serious and the comical, which I believe touch upon a genuine, urgent vision about the contemporary art world experience."

His current exhibition, An Artist, A Curator And A Rabbi Walk Into A Bar… is showing through February 8, 2014 at Hasted Kraeutler Gallery in New York.