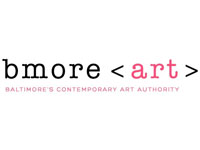 Bmore Art
New in Town : Chelsea Galleries
Mar 06, 2014
By: Blair Murphy
(Excerpt) Not far away, Hasted Kreutler Gallery shows work by another artist with a clear lineage whose work transcends sheer imitation. Rómulo Celdrán is a Spanish artist whose interest in the materiality of everyday objects is reflected in stylized over-sized sculptures and hyperrealist black and white drawings, both depicting mundane items. Celdran's large objects bring to mind Claus Oldenberg, an influence Celdrán nods to with several pieces featuring clothespins.
While the sculptures, with their shiny surfaces and familiar shapes, are more visually spectacular, the graphite drawings are the standout works. Celdrán's drawing of an orange slice is so lovingly crafted that each individual pod seems ready to burst. A broken eggshell is depicted with a near-microscopic level of detail. Celdrán presents the surface of this object, which typically winds up in the trash, as an entire world in and of itself.
The artist's fetishistic treatment of the mundane acts as a sharp reminder of our position in the physical world and near constant engagement with the objects that surround us. In an age when we spend an amazing amount of our time staring at screens, gazing at pixels organized to represent physical objects, these works insist on drawing your eye back to the material world. While there's a certain whimsy at work, especially in the oversized sculptures, the pieces also evoke the sheer abundance present in our consumer-oriented landscape. Whether as hyper-realistic pencil shavings or oversized ice-cube trays, Celdrán's pieces alter the physical relationship we're accustomed to having with these objects, giving them a gravity that demands our attention.