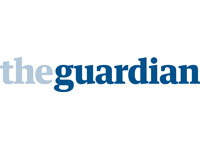 Guardian
Beyond Basquiat : We shouldn't use "black artist" as a code for "other".
Mar 13, 2014
Jean-Michel Basquiat (1960–1988), among the most renowned figures in American art, was known for exploring the complexities and contradictions of race and mainstream society. As a retrospective of Basquiat's work goes on display in New York, artists of color discuss his legacy.
Awol Erizku, 25, New York City

How has Basquiat's work influenced you? If he has any direct influence on me, I would say it's the fact that it made me think of how much control I can have over my work, and what I can do with it while I'm still alive. It made me aware of what I'm worth.
What do you think needs to be done to make sure black artists are better represented in mainstream art culture? The art world shouldn't use 'black artist' as a code for 'other.' We make work from our experiences like everyone else. White, black, Asian, whatever, we're just artists at the end of the day. We need more diversity in schools, museums and galleries. It's happening, just not fast enough. I assure you it'll be a different conversation about 'black artists' in another 20 years.