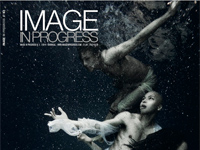 Image in Progress
Jeff Bark / "The image as if it were a still film"
Apr 01, 2014
Excerpt from an exclusive Interview with Jeff Bark, Fashion Photographer and American Artist, in view of his upcoming exhibition, Goldenboy, at the Hasted Kraeutler Gallery, New York.
Text by Emanuele Cucuzza
Jeff Bark, who was born in 1963 in Minnesota and is now based in New York, is part of renowned national collections including the Wilson Centre of Photography, the Sir Elton John Collection, and the 21 Century Museum, in Louisville, Kentucky. His photographs were recently included in the group exhibition "No Fashion, Please!" at Austria's Kunsthalle Wien, along with such international superstars as Philip-Lorca di Corcia, Erwin Olaf, Hanna Putz, Viviane Sassen, Sophia Wallace, and Bruce Weber. Jeff Bark in USA is represented by Hasted-Kraeutler Gallery, NYC.
Image In Progress: When did you know that you wanted to be a photographer and what were your ambitions back then?
Jeff Bark: I've wanted to be a photographer since I was 12. Even then I liked the idea of making something real out of something fake. I would even make my brother and sister pose for pictures in little sets I made in the basement. My goal was to be able to make the picture you saw would make you feel something. In the beginning that was more about love and good times in groups or families and later that evolved into subjects that were more about quiet feelings and longing. I am more interested in challenging what is considered beautiful since the idea of beauty has been altered from years of advertising and commercialism.
IIP: How did your expectations change over time and what are your aspirations now?
JB: In many ways, this relates to the previous question. My aspirations came from my childhood beliefs about art.
I've been trying to make a believable perfect world inside my camera since I was young. I continue to strive today to create these flawlessly ethereal and surreal worlds.
IIP: Is there a distinguishing feature in your photography that you would like your collectors to notice?
JB: I would like my collectors to be able to look at one of my photographs and discover multiple layers of meaning within the thoughtfully crafted sets I have created. While, a single moment is shown, I want the collector to experience the image as if it were a film still.
One could sense something just happened or is about to happen, offering a narrative and a sense of time passing. There is a story, a character, a set. I work diligently to fill the frames full of detail and information for the viewer to discover.
IIP: In your projects how much is instinct and how much is accurate planning?
JB: My works may look as though I place models in existing spaces. But, in reality, I meticulously create my own sets.
I start in an empty white studio – everything from the wall color, to the wear of the fabric on the furniture is considered.
It's very much like a diorama, telling the story with the placement of objects.
The setup and shooting are non-stop physical acts for me, adding, subtracting and rearranging props, finessing the light until a balance is reached. It's something you can actually feel on set. Everything is deliberate with nothing left to chance.