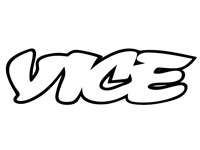 VICE
Yale University Is Having Its First All-Black Art Show
Apr 17, 2014
By Alexis Barnes
Yale has a history spanning over 300 years, and an African American population of just 8 percent, according to the university's Office of Institutional Research.

Low black population at Ivy League schools is old news. While Harvard is breaking its black admittance record this year by accepting approximately 165 black students (or 11.9 percent of the student population) into the class of 2018, a recent play and photo campaign that went viral called "I, Too, Am Harvard" painted a bleak picture of the minority student experience.

Because I attended Howard University, I was spoiled by the black diaspora overload. For once, I was in the majority. From the melanin-rich annual fashion shows to watching Spike Lee's School Daze on the mega screen on the Yard, most of my peers shared my experiences and my face.

It's easy to forget some institutions are still breaking color barriers and having "firsts." But a second-year graduate student in photography at Yale, Awol Erizku, has just curated the first show in the school's history that includes only work by black artists. The show, 13 Artists, runs from April 15 to 20 and consists of art by Yale MFA graduate students handpicked by Erizku, who shot an editorial on the evolution of black masculinity through fashion titled Power for this year's VICE Fashion Issue.

I sat down with Erizku and four of the featured artists—Jordan Casteel, Brandon Cox, David Alekhuogie, and Samantha Vernon—to discuss the show.
VICE: Awol, as curator of this exhibition, how did the idea come into fruition? When did you decide you wanted to do this?
Awol Erizku: No one actually knew what I was doing. I just went to everyone's studios or saw things that I'd like to see and took it up, putting it all in one show. I guess for me, it came about because a lot of us go to each other's critiques. That's where we make work and we show it to the general audience and they give us feedback. A part of it is people not understanding what each of us, individually, is doing. So I thought it'd be a really interesting thing to have all the black artists being in one space and see what the work does. It's important to realize, it wasn't a show based on a theme but based on my impulses. It's what I thought should be in the show. It wasn't really like, Oh, I'm going to curate a show of works that look like this. I started out with one photograph of mine that I wanted to put in the show, and the rest happened naturally.
What is the African American community at Yale like?
Brandon Cox: In the painting department, they let in four African American painters out of 22 total students accepted every year. In the sculpture department, it's like one or two every year. We're fortunate to have four in photo. We're small, but we tend to be quite tight-knit here, both communally and conceptually.

What message do you want to send to your audience?
Awol Erizku: The title is 13 Artists for a reason. I wanted to paint a blank canvas. I thought just having a show with no theme and no pretentious title was the best way to put the work out there and have people react to it.

Samantha Vernon: I've noticed there's another show that's called 30 Americans that I think is very closely tied conceptually to Awol's approach to this show.

David Alekhuogie: One of the things I was really interested in was the idea of visibility. Awol and I have had conversations on this. In the spring, we have an alumni panel where all the students invite past graduates from the program that they want to have come talk. There's usually a ratio that ends up happening with artists of color, especially in the photo program. So, for me, one of the biggest things was being visible in the institution, being visible in the school. I think that ties into what we were talking about with the 30 Americans show.

Brandon Cox: I think one important thing that is coming from this show and a good purpose of having it is showing the importance of the black gauge as opposed to white, male, patriarchal, canonized gauge. Most of us know, it's quite one-sided and flawed and removes all other meanings and values from other gauges. It'll show—yes, we're here [at Yale]—but there also just so happens to be something different going on here in this room than in other places in the university. I think this is a good opportunity to express this kind of notion.

Samantha Vernon: This show is about black subjectivity, which is not something that can really happen outside of the space that Awol has created.
What type of art is being featured in the show?
Awol Erizku: It's multimedia. We have photography, paintings, sculpture, video, and collage. You're going to get a mix of things.

You picked this theme of 13 Artists and you wanted it to be a blank canvas. Are the separate pieces from each artist focusing on different things or were you able to maintain a sense of coherence?
Awol Erizku: What's fascinating is nothing seems like it's out of place. Like Sam and Brandon were saying, we've never really had the opportunity to do something like this, so we never knew what the possibility of putting all our works together at random would look like. Not just as a curator but also as a person looking in, what's in the space now, it looks pretty good and satisfying and different.

Brandon Cox: And it wasn't particularly random. Awol did a pretty great job at selecting particular works from each of us. In that action alone, I think that there is a continuous line between pieces.

In selecting these pieces for the show, what was the inspiration?
Awol Erizku: There were a lot of pieces I saw from Brandon from just doing a regular studio visit that I really liked. We talked about it, and I decided which work was a good fit.

Jordan Casteel: What I found interesting in my engagement with Awol in the studio is he wasn't particularly interested in what I am doing or focusing on as a project overall, but was more interested in work people might not have seen—the stuff that exists in the closet, or in the corner, that could be brought to light and is in conversation with the rest of the work in order to make a bigger story happen.
Samantha Vernon: Awol choose work that's not necessarily representative of where we are in our studio practice right now, rather then choosing work that (like Jordan said) people haven't seen or we haven't even exhibited. I think it's pretty fresh and different. A lot of times when you're in group shows, you include what you think is going to represent you as an artist. This show is more about a conversation.

Considering that there's only an 8 percent black student population and even less in the graduate fine arts program, is that contributing to why this first all-black show is happening in 2014 at a school with centuries of history?
Awol Erizku: I haven't seen anything like it or heard of anything like it, and quite honestly, I think you need the space to put on a show like this. I'm glad I was fortunate enough to be around all these amazing artists. I felt the urge and the need to put it out there and be like, "We're here."

Awol Erizku is an interdisciplinary artist currently completing his MFA in photography at the Yale School of Art. Please contact him for more information on 13 Artists.