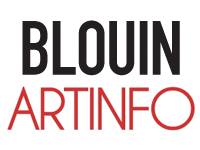 Blouin ARTINFO
Awol Erizku Curates First Show of Yale MFA Artists of Color
Apr 18, 2014
By Ashton Cooper
Rising star Awol Erizku, who we profiled back in 2012, has attained plenty of art world accolades over the past few years, the latest of which is graduating from the Yale School of Art's MFA program. Before he departs New Haven, Erizku has curated a show of all of the artists of color currently in the program, something he says has never been done before.
Titled "13 Artists," the exhibition features the work of David Alekhuogie, Joseph Buckley, Jordan Casteel, Brandon Cox, Aaron Fowler, Genevieve Gaignard, Andrew Hawkes, Lauren Halsey, Hannah Price, Tschabalala Self, Devan Shimoyama, Samantha Vernon, and Erizku. The short show at Yale School of Art's student experimental space 24/6 Gallery has an opening party tomorrow night and ends on Sunday.
"The show for me is about bringing together 13 exceptional artists from the Yale MFA program, working in all types of mediums, and seeing what dialogue the work has without any context or theme," Erizku told ARTINFO.