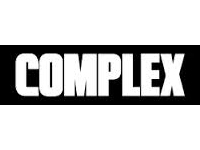 Complex
Artist Awol Erizku on Creating a New Way to Look at Race in Art
Aug 07, 2014
by Antwaun Sargent
The most common characterization of artist Awol Erizku's current exhibition, "The Only Way Is Up," is that the artist is trying to give the great art masters "21st century updates" (according to Hasted Kraeutler, the gallery that represents him). But that view is only half true when describing the 26-year-old Ethiopian born - American artist's work. Erizku's long-term project is to remove the labeling of a black artist as being only concerned with making "black art," and in doing so, he hopes to elevate blackness in the canon of art history. It's an ambitious task, but Awol is energetic and ready.
"With the show, I am trying to create a new vernacular, in terms of how you see my work and black art as being universal," says Erizku.
Walking through Erizku's show, it's easy to dismiss the show as black art that uses the work of popular artists like Donald Judd as a point of departure. There is undoubtedly a Judd-like stacked, vertical aspect to the tiered basketball hoop piece, Oh what a feeling, aw, fuck it, I want a Trillion. The cultural signifiers in the work—which takes its title from the humorous, slightly ridiculous Jay Z song "Picasso Baby"—complicates the one-to-one comparison in Judd's minimalist "Stacks" series of stainless steel wrapped-around plexiglas.
"If you look at it, there are seven hoops. Seven is a lucky number. And they are basketball hoops. They aren't metal boxes," explains Erizku, "and so to me, there is more to this than Donald Judd." His response is indicative of the fact that race is difficult to unpack, even when discussed in a semi-familiar, art historical context.
The seven regulation-size basketball rims (with 24-carat gold-plated nets) have a Spalding Brooklyn Nets basketball unattached to their top rim. The ball can fall through all of the hoops or slide off the rim, resonating with the uncertain hopes and identities of Erizku's generation cross-culturally. Basketball represents a level of success that a young person in 2014 dreams to have, and growing up, young boys who can dunk at the age of 15 or 16 carry a certain level of respect in their communities. But for that young man without the skill or potential, like the unattached basketball, it requires a mixture of luck and talent to get even close to making it into the NBA.
When Erizku made the piece in his studio at Yale, he was finishing up his MFA. After it was done, he put it on Tumblr. "I remember this one guy on Tumblr said, 'It's like when you see a hot chick at a bar, and then you see her girlfriends,'" says Erizku laughing. "Someone else said something like, 'She got you going through all those hoops!' So you get all these various interpretations of the piece," he says. "And that is more satisfying to me than someone saying it's like a Donald Judd." While Erizku's works often unravel to reveal serious social commentary, he understands the value of subjective interpretation and being able to affect the viewer emotionally.
Beyond Donald Judd, there are artists Erizku draws from in an effort to give viewers broader, more common cultural reference points. The way he uses color so vibrantly in Heads, or Portrait of a Muslim Boy, can be credited to photographer Dave LaChapelle. When Erizku was 18, he interned for the famous photographer at his old studio in Chelsea. "The way I use color can be tracked back to my time with Dave," he says. "There are still footprints of his work in the way that I treat my images. The red background connects the photos—red might be my favorite color."
Erizku pays homage to artist Marcel Duchamp in an obvious way with Marcel, DuChamp 1887, a reflective ink-on-canvas screenprint and jersey. It hangs on the wall and also on an industrial pipe rod among other Erizku inspirations, like David Hammonds and Kerry James Marshall, in a way that combines concepts of athleticism and fandom. They resemble the "Team Tisci" or "Team Wang" jerseys made by downtown New York label LPD, which pay a tongue-in-cheek homage to fashion designers Riccardo Tisci and Alexander Wang.
In a less obvious way, Erizku references Duchamp's "Readymades" by turning ordinary H&M shopping bags with Beyoncè on them into works of art. "I thought Duchamp—readymades. Jay Z's 'That's My Bitch' [song lyrics]— 'Beyoncè is Mona Lisa with better features,'" he explains. "Then I thought about what's identifiable when you are talking about black culture, and I thought about the freeway beard." He pauses, and then says, "which was a black beard before it was a hipster beard."
To finish his ode to DuChamp, he got a haircut and used the hair to make a beard and armpit hair for Beyoncè. He titled it, L.H.O.O.Q @Beyoncè after DuChamp #1 (L.H.O.O.Q is a DuChamp readymade of Mona Lisa with a mustache). "You can look at it and say it's an H&M bag that's been appropriated for something else, or you can look at it and say there is this Jay Z reference," he explains. "You can only 'get it' if you meet at that crossroad. So it challenges you to think about it as more than just Beyoncè with a beard."
Erizku's lyrical references further push the pervasive, new vernacular he is trying to produce through an exploration of blackness. His show takes its title from a Quincy Jones record that his parents loved to play when he was a child. "Music is a huge part of my art practice," he says. "Because musicians, like visual artists, work on a lot of songs before they [narrow them down to] put out an album. I didn't know if this show would end up being a photo show or mostly video."
Music also influenced Erizku's decision to create Ed Ruscha OOF-inspired #TRILL and #WAVY neon signs in the gallery. He also placed gold, hip-hop-inspired grills on a traditional African mask in the 10-foot tall The Man sculpture that sits on a fool's gold stone pedestal. "You come across these African masks in two contexts in New York. One is on the street, on a table outside of the MoMA, and you're looking down at them. Or, you encounter them in a weird, primitive context," he says. "And that's always bothered me. Because you see all those busts of David rendered in so many ways."
The artist released The Only Way Is Up mixtape to build hype for his Chelsea show in the same way that a rapper (like his high school friend A$AP Ferg) might before releasing an album. On it, the visual artist Kerry James Marshall lectures over Beyoncè "Drunk In Love" vocals: "Going from high art to low art in the places where we come to understand what beauty represents...and when you are not represented there—that is a problem." Marshall establishes the thesis of Erizku's second solo show on the mixtape, and that is to make blackness as universal of a reference as whiteness.
This idea of universal blackness is at play in Erizku's photograph titled Teen Venus. It shows a girl standing on the rocks at Fort Tilden, with waves ebbing in the background and the sky almost completely covered in clouds. "At a very basic level, it's for those who have no reference of art history and just come in, view the work, and say 'Wow that's beautiful. It's a brown skin female in a gallery in Chelsea, and I've never seen this in this context, and it represents me,'" he says. "On another other level, if you want to dig deeper, at the end of the day, it's a brown skin Venus, and we aren't used to seeing black bodies in these scenes."
However, critics have often been unwilling to see Erizku's work in such an expansive light. The success of his first solo show in 2012, titled Awol Erizku, established his presence in the art world—as an artist who comments on black subjectivity by recasting classical white imagery and white art as black. Referring to works like The Girl With a Bamboo Earring, early criticism reduced him to a black artist who made black art for black people. "Other people's understanding of my work is only seen through this one window. They refer to this image as the black Venus," he says, pointing to Teen Venus. "People can only see the new work in relation to the old work, and that is troublesome for me, because this is about universal blackness."