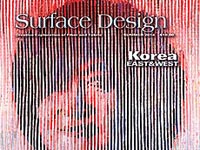 Surface Design Journal
Kwang Young Chun
Aug 12, 2014
Kwang Young Chun's striking textured canvases, and monumental organic sculptures feature sensuous, rippling exteriors that evoke the surface of, the moon. Chun elevates the most humble of, materials into breathtaking compositions by, wrapping hand-cut triangles of archival foam in, delicate pages torn from Korean texts. Shaped by, a specifically Korean sense of culture and tradition, these works transcend their constituent elements, to evoke universal aspects of the human, condition.
Moving to the US in the mid-1960s, Chun was immediately drawn to Abstract, Expressionism. The movement's embrace of unresolved, tensions and its juxtapositions of interiority, and exteriority, abstraction and figuration, texture, and color, reflected his own conflicting, impulses and influences. In the ensuing decades, he has incorporated the methods, materials, and, sentiments of his heritage into the liberated, space he discovered in the US. Bridging sculpture, and painting, he merges a deeply ingrained, respect for history with a distinctly contemporary, visual language.
In addition to his globally recognized, relief-style work, Chun also creates large-scale, sculptures using similar techniques. Chun created, his largest freestanding paper sculpture to, date—just over 14 feet and approximately 650, pounds—for a 2009 site-specific presentation at, the Aldrich Contemporary Art Museum in, Ridgefield, Connecticut.
Chun recalls the moment that gave, birth to his signature aesthetic and technique, as some time in the mid 1990s while he was, sick in bed. Reaching for a package of pills, wrapped in thin paper, he says, he was suddenly, transported back in time to the office of a, Chinese doctor he saw as a child, where small, sacks of mulberry-paper-wrapped herbs hung, from the ceiling. The image of those carefully, wrapped packages has proven fundamental to, his practice. At once ethereal and firmly rooted, in the world of earthly organic delights, his, large objects may appear to hover above the, ground like an enormous bee hive or a cosmic, bird's nest, or to explode from the earth's core, like a surge of lava. Viewed up close, however, they reveal themselves as markedly informed, by the intellect, encased in both modern and, ancient book pages that reference the long trajectory, of human history. "The paper bags of, Chinese medicine become information the, moment the doctor writes their name on it, " he, says. "The package I fumbled with on that afternoon, is a type of information, a product of, human knowledge and experience.", Kwang Young Chun received his BFA, from Korea's Hongik University, and has an MFA, from the Philadelphia College of Art. Recent, major museum exhibitions include the, Knoxville Museum of Art (2011) and the Today, Art Museum in Beijing (2013).
Chun's work is included in esteemed, public collections worldwide, such as the, Rockefeller Foundation in New York, Woodrow, Wilson International Center in Washington DC, United Nations headquarters in New York, National Museum of Contemporary Art in, Seoul, Seoul Museum of Art, National Gallery of, Australia at Canberra, London's Victoria and, Albert Museum, and the Malta National, Museum., Kwang Young Chun is represented exclusively in the, US by Hasted Kraeutler in New York, where the, artist's latest works will be presented in a solo exhibition, September 4–November 1, 2014. The monograph, Kwang Young Chun: Mulberry Mindscapes (Skira
Rizzoli, 2014) is available at Hasted Kraeutler.
www.hastedkraeutler.com
www.chunkwangyoung.com
—Eds: Text contributed by Hasted Kraeutler, New York.