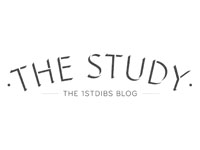 The Study
See the shot that inspired Kim Kardashian's Paper Magazine cover
Nov 12, 2014
The more things change, the more they stay the same.
For their winter issue, Paper magazine set out to "break the internet" with the help of Kim Kardashian. Given that they managed to rack up over five and a half million search results for "Kim Kardashian Paper Magazine" in less than 24 hours, it seems like they did alright. Our angle on this? The maestro behind the much-maligned, much-appreciated shot is the French contemporary photographer and designer, Jean-Paul Goude.
For the Paper cover, Goude re-created what is arguably his most famous shot, "Carolina Beaumont, New York, 1976" (above left). Often referred to as "Champagne Incident," Goude's picture is characteristic of the artist's playful, winking approach to sexuality. The French-born Goude began his career in magazines — he served as art director for Esquireduring the '70s — and later stepped behind the lens to create frank, colorful images that flirted with the boundary between fine art and advertising. In fact, "Carolina Beaumont" comes from an eight-page Esquire editorial entitled "The French Connection" that aimed — in the pre-Photoshop era — to explore the changing standards of beauty vis-a-vis physical proportions. Obviously, the conversation is still happening today.
We're fans of both images, and appreciate any occasion to surface the name of a deserving talent. Luckily, Goude's original image is available on 1stdibs from dealer Hasted Kraeutler. Shop it now. For Kim's version, hit your local newsstand — or just visit the now-broken Internet.