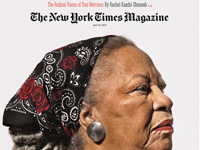 New York Times Magazine
The Last Coal Miners of Spain
Apr 12, 2015
by Nathaniel Rich
Coal is on the way out in Europe, and it is dying a slow and ugly death. Its decline has been hastened by competition from the renewable-energy industry, cheaper imported coal from Russia and the United States and new air-quality regulations passed by the European Union. The death throes have been especially violent in Spain, where the national coal-mining industry was created by royal order in 1621 to exploit the coal basin at Villanueva del Rio y Minas in Seville. In 1990, 167 coal mines employed about 40,000 workers. Today there are roughly 40 active mines, employing fewer than 4,000 miners. The struggling industry has long been supported by state subsidies, but under a recent E.U. agreement, all subsidies must expire by 2018.
When the government issued heavy reductions to the subsidies in 2012, miners responded by holding strikes and sit-ins and by blockading roads, highways and railroad lines. Thousands of them marched to Madrid, some walking 250 miles. When they arrived on the night of July 11, 2012, they were joined by more than 10,000 additional protesters, many of whom saw the miners' fate as a symbol of economic parsimony taken too far. They fired at the police with slingshots, catapults and rocket launchers. Clashes with the police followed, and the press carried images of women and children with bloodied heads. Spain's prime minister, Mariano Rajoy, declined to hold talks with the miners. The following day, he announced new austerity measures.
"I guess it's turning into our version of the intifada," a miner from the northern mining village of Ciñera told The New York Times that year. "When somebody is determined to take away your job and what has kept families living here for over a century, you fight to the end." Another told The Guardian: "The future is as black as coal."
Since 2009, the French photographer Pierre Gonnord has photographed miners in the northern Spanish mines of Carbonar, Monsacro, Pozo Santiago, Maria Luisa, Candin, Nicolasa, Tineo, Cerredo and Villablino. The miners work as deep as 2,300 feet underground in seven-hour shifts. Gonnord photographs them after they re-emerge onto the earth's surface.
CONTINUE READING THE MAIN STORY WRITE A COMMENT
The men look as if they have been standing too close to a bomb detonation. Their faces are caked in toxic dust and dried sweat, the whiteness of their eyes accentuated by coal eyeliner. Their expressions combine pride, melancholy and bewilderment. In their poses and demeanors, taken together with Gonnord's palette — dominated by olives, blacks and grays — the photographs recall Diego de Silva y Velázquez's dreamy, disconcertingly lifelike oil portraits. But Velázquez painted members of Madrid's royal court. The miners, upon reaching Madrid, were welcomed by riot police, rubber bullets and tear gas.
Gonnord's photographs also share an affinity with Lewis Hine's portraits of child laborers (particularly those of children employed in the Pennsylvania coal mines); Dorothea Lange's Dust Bowl portraits; and, more recently, Ruben E. Reyes's portraits of foreign laborers in Dubai. A difference here is that the Spanish miners do not resent the dirty, thankless work they do. They see no better way of supporting their families. They are fighting to remain in the mines, enduring the backbreaking labor and inhaling the noxious dust, despite the increased cancer rates and reduced life expectancy.
The portraits are a vivid illustration of the challenges facing environmental reformers. A rapidly overheating world requires global remedies; many of these measures, at least in the short term, will inflict hardships that will fall unevenly on those least suited to bear them. Stories of immediate individual suffering will always speak more powerfully than a broader narrative about the gradual mitigation of existential threats. Spain, like most other nations, faces a daunting political problem: how to destroy a poisonous industry without destroying its workers? Artists face a different problem: how to avoid falling victim to sentimentality or activist stridency? Gonnord's photographs resist easy moralizing. Are these men victims or heroes? Shortsighted or calculating? Selfish or selfless? Gonnord shows us that they possess all of these qualities. Most of us do.