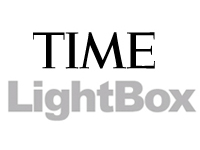 Time LightBox
The Japan Series by Andreas Gefeller
Mar 19, 2011
By Alexander Ho
The Japan Series is Andreas Gefeller's new body of work created in the Tottori Prefecture of Japan. The series consists of photographs of plants modified by human intervention and above-ground power cables against black or while sky- the images draw aesthetic inspiration from the Japan's taste for minimalism and calligraphic writing. Continuing his distinct process of digitally constructing many exposures into one single composite image, the photographs of Japan "investigates the relationship between natural growth and construction and the formal qualities of natural and manmade structures".
In light of the recent events that have deeply affected Japan, Hasted Kraeutler Gallery will donate to the American Red Cross Japan and Pacific Tsunami Relief Effort - 5% of the profits for every print sold until May 14,20 11 and all profits from a special edition of Untitled (Cherry Blossoms), 2010, 17 x 22 inches, edition of 30, $300.
Gefeller's The Japan Series is exhibiting at New York's Hasted Kraeutler Gallery from March 31 through May 14, with an opening reception on March 31, from 6 to 8pm. Further details about the show is available at www.hastedkraeutler.com.
This series will be published as a monograph The Japan Series, by Hatje Cantz in April.
Additional images from Gefeller's work can be found on his website at www.andreasgefeller.eom.